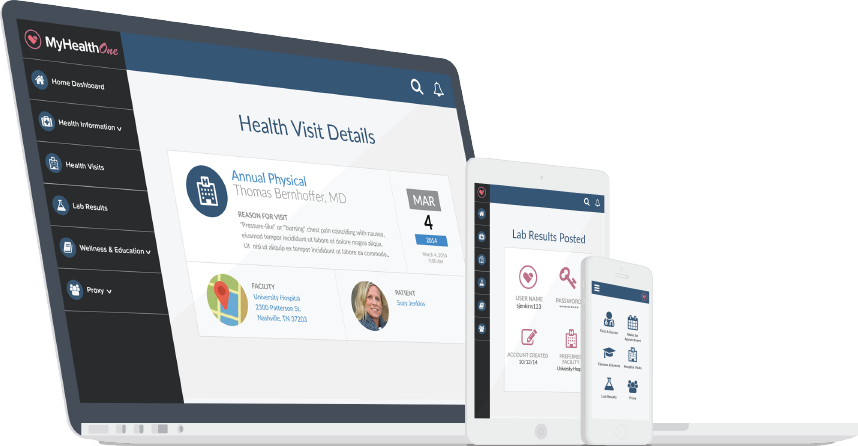 HCA TriStar Division introduces MyHealthOne
Simplifying your healthcare begins with MyHealthOne
Welcome to MyHealthOne. Your health information has been centralized on our secure, online health portal.
MyHealthOne is designed to simplify and streamline your experience with our hospital, and empower you and loved ones to have more control and flexibility in how you manage your care.
Questions?
Having trouble signing in? Need assistance? MyHealthOne support is ready to help.
Call MyHealthOne
Monday - Saturday
7:00am - 8:00pm CST
Sunday
9:30am - 6:00pm CST
Features of MyHealthOne
MyHealthOne consolidates many common tasks into one secure, easy-to-use online patient portal. It gives you access to your personal health information on your desktop computer, laptop, tablet or smartphone 24 hours a day and allows you to:
View details of recent hospital visits
View hospital lab results
View and pay hospital bills
Sign up for classes and events
Find a doctor
Manage the health of your loved ones
Pre-register for procedures
Your Health Information
MyHealthOne provides an easy-to-use portal to your personal health information from our hospital. Manage your health or the health of a loved one.
Your Labs
Review your lab reports for test values and normal ranges as well as imaging reports and learn about other details from your hospital visits.
Bill Pay
View and pay your hospital bills online through MyHealthOne with multiple options to make payments, arrange payment plans and get help when you need it.